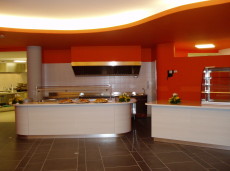 Idea Food designs and builds , according to the turnkey logic , corporate restaurants of the major private and public Italian and foreign companies.
The furniture is built with steel structures covered with front panels of different materials such as: wood, laminate, leather or leatherette.
The tray slides and tops are of high quality materials such as marble,marble agglomerates and corian.
Each piece of furniture can be equipped with maintenance or warm rooms , plate lifts, and the whole range of Drop – in by Idea Food.