Furniture and counters made to measure for any restaurant business.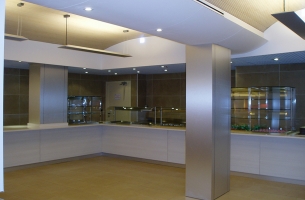 StandardAmbient counter with laminate FRONT PANEL, MODULAR STRUCTURES FROM 1000 TO 10000 MM. open on OPERATOR's SIDE, STAINLESS STEEL OR WOODen bottom shelf. ambient top AND tray SLIDE IN marble agglomerate OR OTHER MATERIALS. STAINLESS STEEL skirting, INTERNAL STRUCTURE IN STAINLESS STEEL tubular frame WITH ADJUSTABLE FEET IN HEIGHT.
EleganceAmbient counter with laminate FRONT PANEL and painted glass insert, LED OR LAMINATE panel. MODELS FROM 2000 TO 10000 MM.