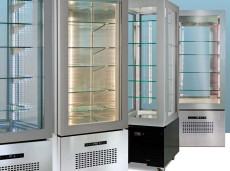 Two lines available: Light and Elegance.
The first is characterized by simplicity of form, ease of movement (on wheels) and is available in the hot food Buffet and cold food Buffet versions. With its small dimensions it is especially suitable for restaurants.
The Elegance line, as well as providing a much wider range of functions, stands out for its refined design and the quality of materials used .
The display units proposed for the preservation and presentation of wine are available with ventilated and static refrigeration , in various colours and with capacities from 120 to 200 bottles.