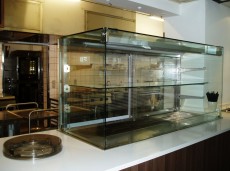 Professional stainless steel built-in equipment designed for restaurants, canteens, ice cream parlours, confectioneries, bars and delis.
The Drop in range is composed of: refrigerated, warm, humidified display units, bain marie wells, refrigerated wells, refrigerated static steel or granite tops, pasta cookers, fryers, induction tops and woks , plate lifts and cold rooms.
The equipment proposed by Idea Food is characterized not only for its technical content, but also for its aesthetic value and design.