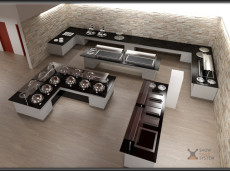 Complete management of planning and implementation.
Choosing how to decorate its premises is very important for any company, because the end result must create an environment that combines the best aesthetic and functional requirements while maximizing the company's image.
Idea Food deals with customised interior design "turnkey" projects, including all stages from design to production and delivery of a finite environment, ready for its intended use.
Our projects are characterized by high quality standards and marked thoroughness, thanks to fully customized processing.
Materials, colours, surfaces, fabrics, furniture, accessories and lighting; the project is studied, in detail, together with the customer, in order to understand their specific needs and meet them.
Trust our service of custom-made furniture: you will not have to worry about anything since we provide all the equipment and machinery accessories for ice cream parlours, bars, cafes, restaurants, hotels, pizzerias, bakeries and delicatessens.
Download the pdf below related to one of the last projects
Pianta Campus Torino

Render n.1

Render n.2

Render n.3

Render n.4

Render n.5