Elegance and Functionality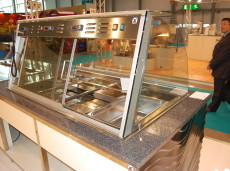 In a perfect combination of aesthetics and functionality, the Idea Food line proposes a set of design solutions that will enhance your premises in a unique and unmistakable way..
Our customers can now choose from an industrial production with high quality levels, handcrafted and tailored to their business.
The multiple lines of furniture specialized for food include specific projects for the sectors: Bakery, Wine Bar, Delicatessen, Coffee House, and are aimed to improve different product categories, not forgetting the functionality and convenience for those who use the furniture daily.
Our furnishings also promote the importance of bread and wine, the protagonists of all Italian tables.
The wide range of Drop-in display units, modern and finely decorated, refrigerated rooms, are placed on counters produced in the finest materials (wood, steel, glass, leather, marble and granite), and contribute to the enhancement of the food and restaurant.